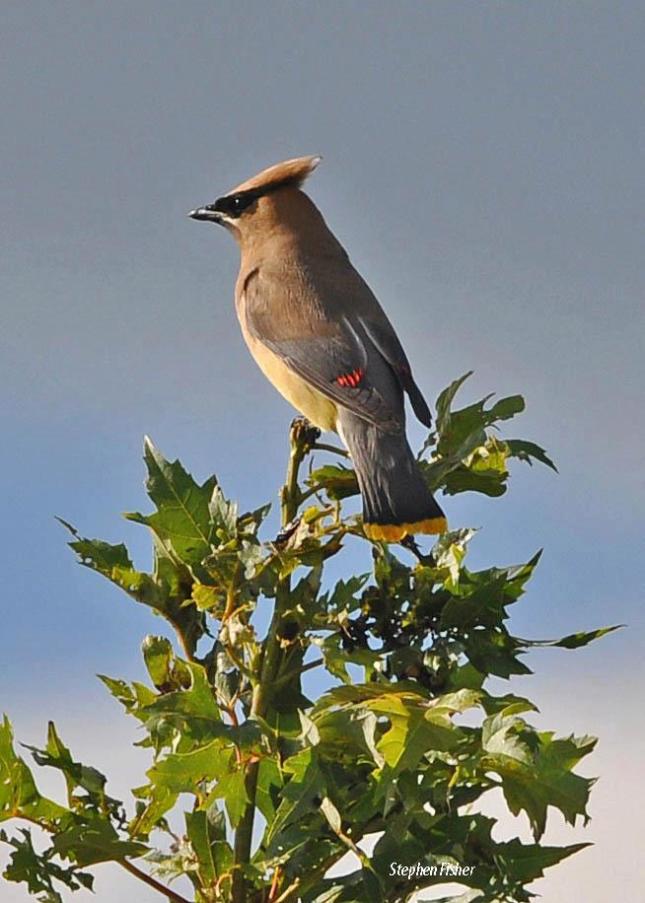 Fun Facts about Cedar Waxwings
A treat to find in your binocular viewfield, the Cedar Waxwing is a silky, shiny collection of brown, gray, and lemon-yellow, accented with a subdued crest, rakish black mask, and brilliant-red wax droplets on the wing feathers. In fall these birds gather by the hundreds to eat berries, filling the air with their high, thin, whistles. In summer you're as likely to find them flitting about over rivers in pursuit of flying insects, where they show off dazzling aeronautics for a forest bird.
Cedar Waxwings love fruit. To attract waxwings to your yard, plant native trees and shrubs that bear small fruits, such as dogwood, serviceberry, cedar, juniper, hawthorn, and winterberry.
Cedar Waxwings with orange instead of yellow tail tips began appearing in the northeastern U.S. and southeastern Canada in the 1960s. The orange color is the result of a red pigment picked up from the berries of an introduced species of honeysuckle. If a waxwing eats enough of the berries while it is growing a tail feather, the tip of the feather will be orange.
The Cedar Waxwing is one of the few North American birds that specializes in eating fruit. It can survive on fruit alone for several months.
Cedar Waxwings are social birds that form large flocks and often nest in loose clusters of a dozen or so nests. When feeding on fruits, Cedar Waxwings pluck them one by one and swallow the entire thing at once. They typically feed while perched on a twig, but they're also good at grabbing berries while hovering briefly just below a bunch. When eating insects, waxwings either fly out from an exposed perch, or make long, zig-zagging flights over water. Cedar Waxwings have a strong, steady flight style with fairly constant wingbeats.
The name "waxwing" comes from the waxy red secretions found on the tips of the secondaries of some birds. The exact function of these tips is not known, but they may help attract mates.