Welcome to Runamok Maple
Runamok Maple is located in northern Vermont, along the western slopes of Mount Mansfield. Spanning 1,100 acres in Cambridge and 250 acres in Fairfield, our crew taps 81,000 trees to bring you one of Mother Nature's most exquisite pleasures: pure maple syrup.
Certified organic by Vermont Organic Farmers. Our woods are certified as Bird-Friendly by Audubon Vermont
Along with our pure maple syrup, we have created a collection of infused, smoked and barrel-aged maple syrups. Maple marries exceptionally well with a variety of flavors.
Sugarmakers Cut - $16.95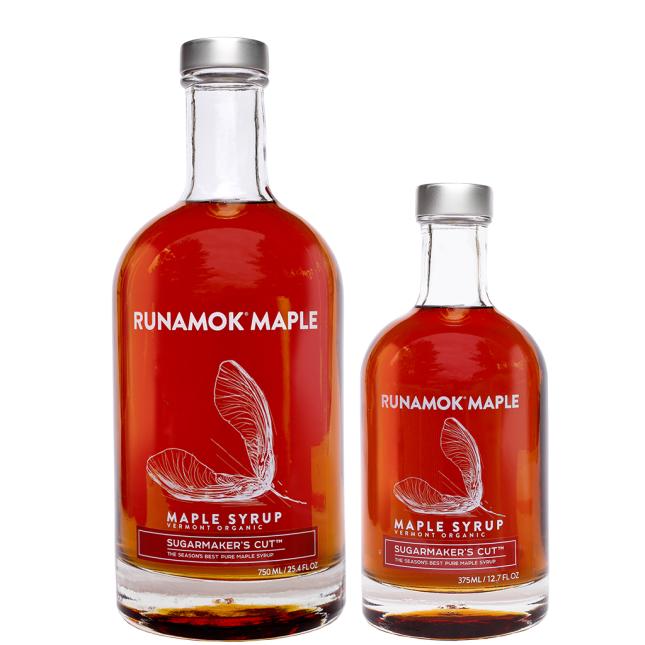 This is the very best organic maple syrup of the season. We taste each run and when the flavor is at its peak our sugarmaker sets it aside with a note: 'Reserve for Sugarmaker's Cut'. It has always been what we give to our friends, our family and 'those in the know.' Now we offer it to you.
This batch of Sugarmaker's Cut is graded as: Grade A: Amber Color - Rich Taste.
Cinnamon - Vanilla Infused Syrup - $16.95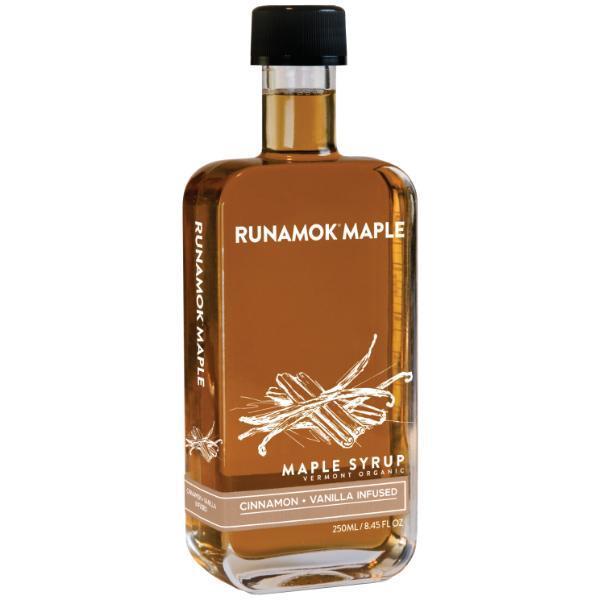 Why argue with a good thing? There is a reason why maple, vanilla and cinnamon are so often used together – they are delicious. We tested both the vanilla and cinnamon from numerous regions around the globe until we found the perfect balance of flavors.
This syrup is great on just about everything: pancakes, desserts, ice cream, yogurt, cocktails. Our friend Harry likes to stir it into milk for a maple-milk treat.
Rum Barrel Ages Maple Syrup - $16.95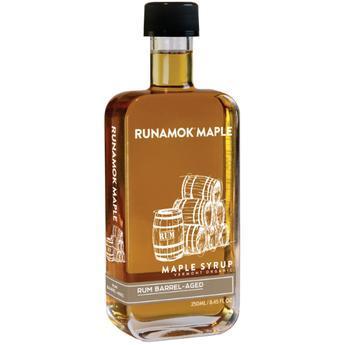 We start with our best organic maple syrup and age it in recently emptied rum barrels. The syrup draws in the essence of the rum without the alcohol.
Like premium spirits, the process takes time, and careful tending. The result is a sophisticated duo that will become a new classic.
Pairing Collections - $19.95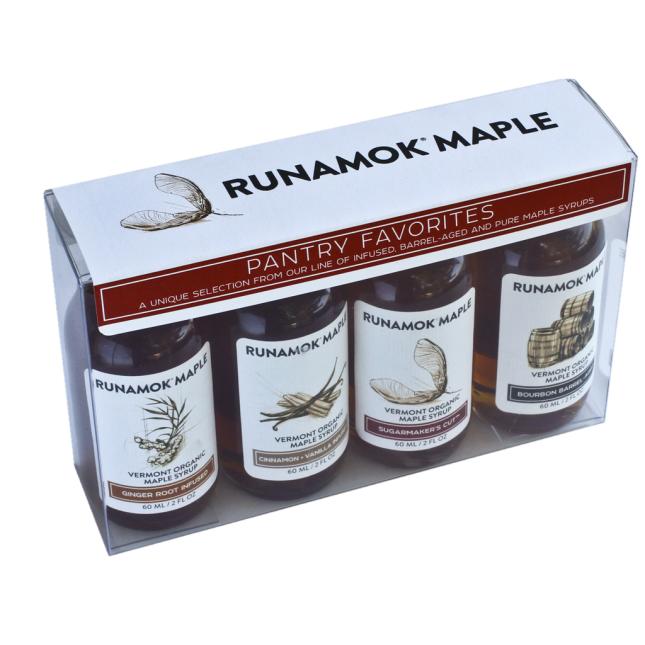 Thinking of giving a gift, but don't know which flavor to choose? Well, these pairing collections are meant for you. Each set represents a sampling of some of our favorite smoked, barrel-aged and infused maple syrups, hand-picked for elegant options. A great stocking stuffer or hostess gift, each is scrumptious and unique, bringing a new kind of maple syrup, not only to the breakfast table but also as a cocktail mixer and an ingredient in recipes both sweet and savory.
Ice Cream Pairing
Maple syrup over pancakes is a natural but if you've never tried it over ice cream, prepare for your new favorite dessert. We tried nearly every type of ice cream flavor out there with each of our barrel-aged and infused syrups to come up with this collection of the best pairings.
Contains: 60ml bottles of Cinnamon + Vanilla Infused Organic Maple Syrup, Hibiscus Flower Infused Organic Maple Syrup, Whiskey Barrel-Aged Organic Maple Syrup and Rum Barrel-Aged Organic Maple Syrup
Day+Night
This collection is perfect for both morning breakfast and evening desserts (and cocktails). Each of these syrups is delightful on waffles, French toast and pancakes. But they really shine at night.
Contains: 60ml bottles of Cardamom Infused Organic Maple Syrup, Cinnamon+Vanilla Infused Organic Maple Syrup, Whiskey Barrel-Aged Organic Maple Syrup and Makrut Lime-Leaf Infused Organic Maple Syrup
Pantry Favorite
This collection is known as the All-Stars of Runamok. Our most popular syrups have so many uses from pancakes to ice cream, vinaigrettes and tea. Use them in cocktails or over fresh fruit.
Contains: 60ml bottles of Ginger Root Infused Organic Maple Syrup, Sugarmaker's Cut Organic Maple Syrup, Bourbon Barrel-Aged Organic Maple Syrup and Cinnamon + Vanilla Infused Organic Maple Syrup