WINTER FINCH FORECAST 2019 - 2020
BY RON PITTAWAY
GENERAL FORECAST: This is not an irruption (flight) year for winter finches in the East. Most winter finches will stay in the north. There are abundant spruce cone crops across the boreal forest in Ontario, Quebec, and Newfoundland. Most conifers (except pines), birches and other seed crops are good to excellent in much of the Northeast. This should be a good winter to see finches in traditional hotspots such as Ontario's Algonquin Park, Quebec's Laurentian Mountains, New York's Adirondack Mountains, and northern New England States. For the details on each finch species, see individual forecasts below. Three irruptive non-finch passerines are also discussed. The forecast applies mainly to Ontario and nearby provinces and states .
PINE GROSBEAK: Most Pine Grosbeaks will stay close to the breeding grounds this winter because the mountain-ash berry crop is excellent in the north. The abundant cone crop and a large seed crop on black ash will provide additional food to hold grosbeaks in the north. A few Pine Grosbeaks may drift south to Algonquin Park where they are seen most winters.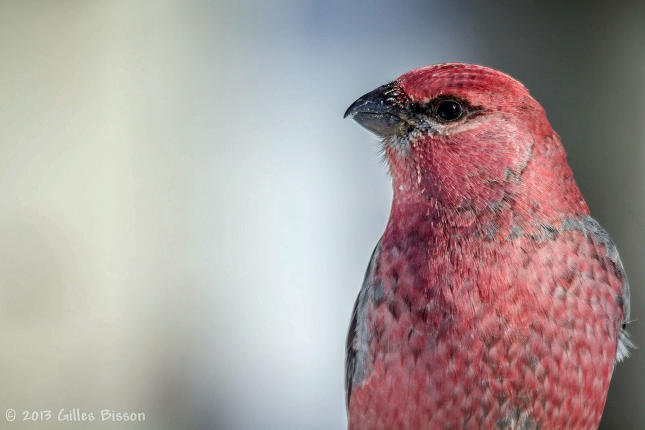 PURPLE FINCH: Most Purple Finches usually migrate south of Ontario in the fall, but this winter many will remain in the province where tree seed crops are excellent. At feeders they prefer black oil sunflower seeds.
RED CROSSBILL: Red Crossbills are currently widespread in the East. Expect to see them where there are large cone crops. Red Crossbills comprise at least 10 "types" in North America. The types are usually impossible to identify without recordings of their flight calls. Recordings can be made with an iPhone and identified to type. Matt Young (may6 at cornell.edu) of the Cornell Lab of Ornithology will identify types if you email him your recordings or upload them to an eBird checklist. Recordings uploaded to eBird checklists are deposited in the Macaulay Library. Matt reports that Type 10 is the most common type now in the Northeast, but there are also some Type 3 from the West and a few Type 1 and 2. See Matt Young's guide to Red Crossbill call types in link #4 below.
WHITE-WINGED CROSSBILL: This crossbill is currently widespread and locally common in Ontario and Quebec where spruce cone crops are excellent to bumper. Expect to see White-winged Crossbills this winter in Algonquin Park. It feeds on native conifers with small cones such as white, red and black spruces and hemlock.
COMMON REDPOLL: Most redpolls will probably stay in the north this winter because seed crops on birches, alders and spruce are excellent this year. A winter trip to northern Ontario should yield redpolls. A few Common Redpolls may get south to Algonquin Park, but likely no farther. For subspecies ID and photos see link #2 below.
HOARY REDPOLL: Hoaries are not expected in the south this winter because it is not a redpoll irruption year. A road trip to northern Ontario is recommended to see Hoary Redpolls. Watch for them in flocks of Common Redpolls. For subspecies ID and photos see link #2 below.
PINE SISKIN: Many siskins should winter in central and northern Ontario where cones crops are excellent to bumper on white spruce. Siskins relish nyger seeds in silo feeders. Siskin irruptions related to climate variability are discussed in link #3 below.
EVENING GROSBEAK: Most Evening Grosbeaks should winter in the north because conifer and deciduous seed crops such as black ash are generally excellent to bumper. However, we may experience an echo flight after the considerable southward movement last winter. The best spot to see this striking grosbeak is the feeders at the Visitor Centre in Algonquin Park. At feeders it prefers black oil sunflower seeds. The Committee on the Status of Endangered Wildlife in Canada (COSEWIC) in 2016 listed the Evening Grosbeak as a species of Special Concern due to stro
population declines in central and eastern Canada .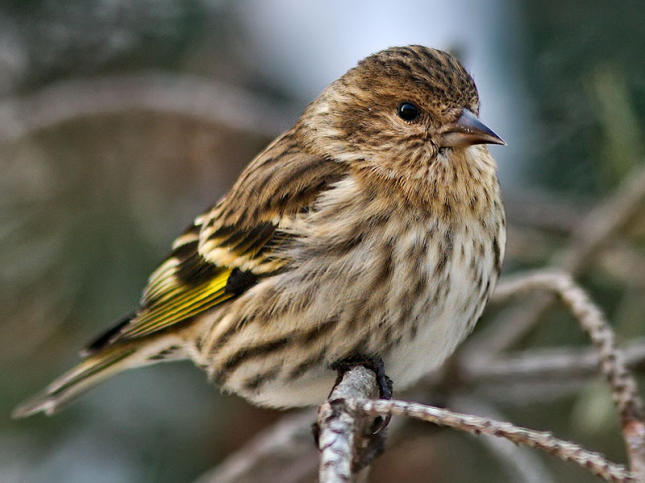 THREE IRRUPTIVE NON-FINCH PASSERINES: Movements of these three passerines are often linked to movements of boreal finches.
BLUE JAY: This jay moves south in varying numbers every fall. Expect a small to moderate flight along the north shorelines of Lakes Ontario and Erie because the red oak acorn, beechnut, hazelnut and soft mast crops are very good to excellent in Ontario. Good numbers of Blue Jays should visit feeders this winter in Ontario.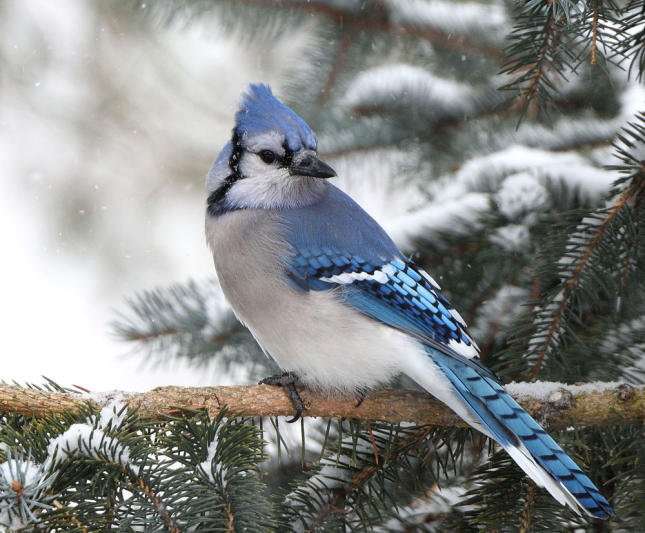 RED-BREASTED NUTHATCH: Boreal populations of the Red-breasted Nuthatch will not migrate south this fall. The excellent spruce and fir cone crops will hold Red-breasted Nuthatches on the breeding grounds this winter. The dynamics and population consequences of irruptions in the Red-breasted Nuthatch are discussed in link #5 below.
BOHEMIAN WAXWING: The excellent native mountain-ash berry crop across the boreal forest should keep most Bohemians Waxwings in the north this winter. Some, however, usually wander south into settled areas where they are attracted to European mountain-ash berries, ornamental crabapples and buckthorn berries.
WHERE TO SEE FINCHES: Ontario's Algonquin Provincial Park is an exciting winter experience. It is about a 3.5-hour drive north of Toronto and 3.5 hours west of Ottawa. Cone crops, except pines which have small crops, are excellent in Algonquin so most finches should be present this winter. The feeders at the Visitor Centre (km 43) attract a variety of finches. The feeders are easily watched every day from the viewing deck. The Visitor Centre and restaurant are open weekends in winter. On weekdays services are limited, but snacks and drinks are available. The bookstore has a large selection of natural history books. The Birds of Algonquin Park (2012) by retired park naturalist Ron Tozer is one of the finest regional bird books. The nearby Spruce Bog Trail at km 42.5 and the Opeongo Road at km 44.5 are two of the best spots for finches, Canada Jay, Boreal Chickadee, Spruce Grouse and Black-backed Woodpecker.
FINCH INFORMATION LINKS
1. Finch Facts, Seed Crops and Irruptions.
http://www.jeaniron.ca/2012/winterfinches.htm
2. Subspecies of Common and Hoary Redpolls – ID Tips and Photos.
http://www.jeaniron.ca/2015/redpollsRP.htm
3. Climatic dipoles drive two principal modes of North American boreal bird irruption
https://www.pnas.org/content/pnas/112/21/E2795.full.pdf
4. Crossbills of North America: Species and Red Crossbill Call Types.
https://ebird.org/news/crossbills-of-north-america-species-and-red-crossbill-call-types/
5. Dynamics and population consequences of irruption in the Red-breasted Nuthatch.
https://www.researchgate.net/publication/332970249
6. Interview with Ron Pittaway in OFO News 34(1):1-3, 201
http://jeaniron.ca/articles/FinchForecasterFe2016.pdf
ACKNOWLEDGMENTS: I thank the many birders and naturalists whose tree seed reports allow me to make annual forecasts: Alexandre Anctil (Chibougamau QC), Dennis Barry (Durham Region, Haliburton, Lake Superior ON), Angus Baptiste (Grand lac Victoria QC), Eleanor Beagan (PEI), Joan Collins (Adirondacks NY), Pascal Côté (Observatoire d'oiseaux de Tadoussac QC), Bruce Di Labio (Eastern ON), Clayton D'Orsay (Cape Breton Island NS), Cameron Eckert (Whitehouse YK), Dave Elder (Atikokan ON), Bruce Falls (Brodie Club, Toronto), Marcel Gahbauer (Eastern ON), Bill Gilmour (Presqu'ile Provincial Park ON), Michel Gosselin (Gatineau QC), David Govatski (NH and VT), Tyler Hoar (James Bay, Northeastern ON, and Laurentians QC), Kris Ito (French River ON), Bruce Mactavish (Newfoundland), Larry Master (Adirondacks NY), David McCorquodale (Cape Breton Island NS), Brian Morin (Cornwall ON), Bruce Murphy (Hilliardton Marsh Research & Education Centre, Timiskaming District ON), Marty Obbard (Peterborough ON), Stephen O'Donnell (Parry Sound District ON), Justin Peter (Algonquin Park ON, Gatineau Park QC, Edmonton AB), Fred Pinto (Nipissing District ON), David Pryor (North Channel, Georgian Bay ON), Brian Ratcliff (Lake Superior and Northern ON), Ron Tozer (Algonquin Park ON), Declan Troy (Anchorage AK), Mike Turner (Haliburton Highlands ON), Angie and Ken Williams (Smooth Rock Falls ON) and Matt Young (NY). Matt shared his knowledge of Red Crossbills. Michel Gosselin and Jean Iron proofed the forecast, and Jean hosts the forecast on her website.
21st Annual Winter Finch Forecast: The first was posted to the Ontbirds and Birdchat listservs in 1999.
Follow finches this fall and winter on eBird.
Ron Pittaway, Ontario Field Ornithologists, Toronto, Ontario, 14 September 2019