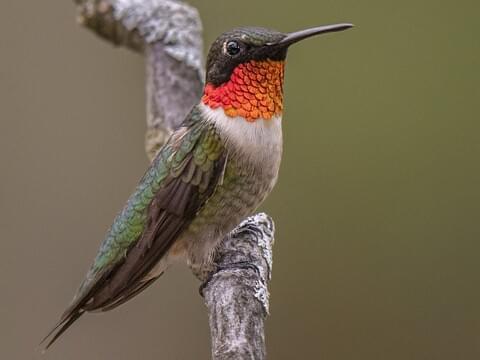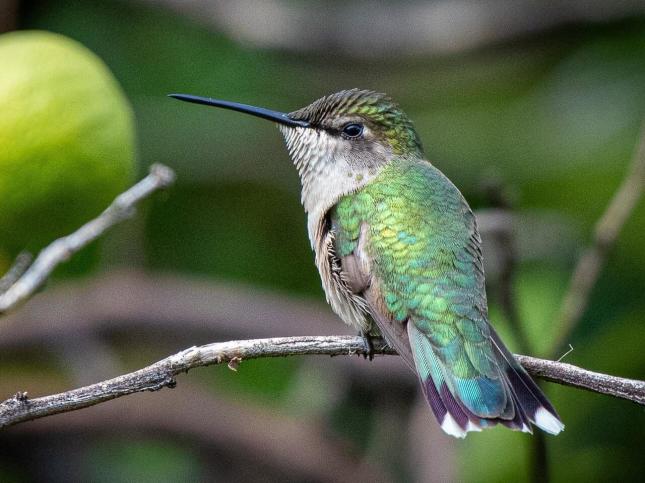 Fun Fun Facts About Ruby Throated Hummingbirds
A flash of green and red, the Ruby-throated Hummingbird is eastern North America's sole breeding hummingbird. These brilliant, tiny, precision-flying creatures glitter like jewels in the full sun, then vanish with a zip toward the next nectar source. Feeders and flower gardens are great ways to attract these birds, and some people turn their yards into buzzing clouds of hummingbirds each summer. Enjoy them while they're around; by early fall they're bound for Central America, with many crossing the Gulf of Mexico in a single flight.
Ruby-throated Hummingbirds feed on the nectar of red or orange tubular flowers such as trumpet creeper, cardinal flower, honeysuckle, jewelweed, bee-balm, red buckeye and red morning glory, as well as at hummingbird feeders and, sometimes, tree sap. Hummingbirds also catch insects in midair or pull them out of spider webs. Main insect prey includes mosquitoes, gnats, fruit flies, and small bees; also eats spiders. Ruby-throated Hummingbirds sometimes take insects attracted to sap wells or picks small caterpillars and aphids from leaves.
Like all hummingbirds, ruby-throats are precision flyers with the ability to fly full out and stop in an instant, hang motionless in midair, and adjust their position up, down, sideways, and backwards with minute control. They dart between nectar sources with fast, straight flights or sit on a small twig keeping a lookout, bill waving back and forth as the bird looks around. Male Ruby-throated Hummingbirds aggressively defend flowers and feeders, leading to spectacular chases and dogfights, and occasional jabs with the beak. They typically yield to larger hummingbird species (in Mexico) and to the notoriously aggressive Rufous Hummingbird.
Males give a courtship display to females that enter their territory, making a looping, U-shaped dive starting from as high as 50 feet above the female. If the female perches, the male shifts to making fast side-to-side flights while facing her Females build their nests on a slender, often descending branch, usually of deciduous trees like oak, hornbeam, birch, poplar, or hackberry; sometimes pine. Nests are usually 10-40 feet above the ground. Nests have also been found on loops of chain, wire, and extension cords.
The Ruby-throated Hummingbird beats its wings about 53 times a second.
The extremely short legs of the Ruby-throated Hummingbird prevent it from walking or hopping. The best it can do is shuffle along a perch. Nevertheless, it scratches its head and neck by raising its foot up and over its wing.
The oldest known Ruby-throated Hummingbird was a female, and at least 9 years, 2 months old when she was recaptured and rereleased in 2014 during banding operations in West Virginia.